Advanced Reporting Services
Insights into ongoing operational status and business planning intelligence.
Studio Valley provides custom SQL Service Reporting Design & Development to help you gain insights into ongoing operational status and business planning intelligence, and deliver secure, interactive reports to partners and customers. SQL Reporting Services are a simple, effective way to expose select information from your SQL database to management, employees, partners and customers.
Microsoft SQL Reporting Services is a comprehensive, server-based business intelligence reporting tool that enables the creation, management, and delivery of both traditional, paper-oriented reports and highly interactive, Web-based reports, directly from the SQL Server database. Microsoft SQL Reporting Services combines the data management capabilities of SQL Server and Microsoft Windows Server with familiar and powerful Microsoft Office System applications to deliver real-time business intelligence information to support daily operations and drive intelligent business decisions.
SQL Reporting Services is powerful, user-friendly, very flexible, and takes full advantage of your SQL database investment. The additional benefit of Microsoft SQL Reporting Services is one-click export of reports to common desktop file formats including Word, PDF, Excel and CSV - making it simple and easy for users to tweak reports downstream for individual needs.
Reporting Services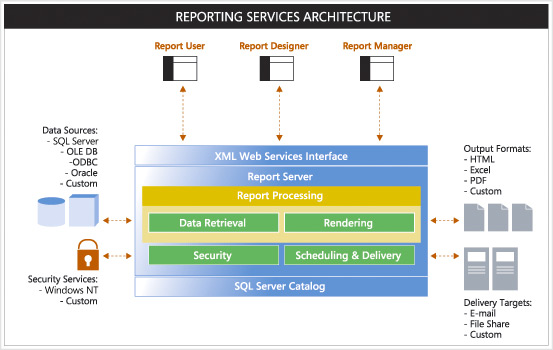 Key Reporting Scenarios
SQL Server Reporting Services combines a single, complete reporting platform with a scalable and extensible architecture to meet a wide variety of reporting needs, including:
Enterprise reporting: Enterprises can use Reporting Services for their operational reporting or business intelligence applications. Using Reporting Services, corporate IT staff can design a variety of reports and deploy them to individuals throughout the enterprise.
Ad-hoc reporting: SQL Server 2005 Reporting Services includes Report Builder, a new ad-hoc reporting tool that enables business users to create their own reports and explore corporate data. Report Builder incorporates a user-friendly business query model that enables users to build reports without deep technical understanding of the underlying data sources.
Embedded reporting: Organizations can access predefined or ad-hoc reports from third-party applications that use Reporting Services and use these reports as-is, customize them, or create new ones for specific business needs.
Web-based reporting for partners and customers: Organizations can deploy interactive Web-based reports to deliver information to customers or partners over extranets or the Internet. Reporting Services isolates report consumers from the complexity of the underlying data sources, while providing personalization and interactivity.
Contact us to see how reporting services can help your company..