Analytics & Reporting
Analytics integration and reporting services.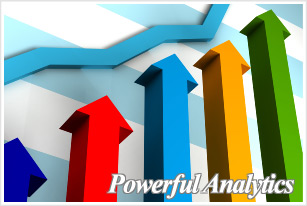 Web Analytics is the study of visitor behavior on a website, the pages visited, path followed, time spent on different page, and many more important metrics. Reports are generated on visitor behavior and analyzed and the insights from this analysis is used to optimize the website for better results.
At Studio Valley, we have a step-by-step Web Analytics process to make your site effective. Starting with Business Analysis to identify the things to be measured, Configuring web analytics software to measure these KPIs, Generating reports, Analyzing reports and finally giving inputs to optimize you site, Studio Valley can help you all along the way.
Our process works to deliver results you can act on and rely on.
Web Analytics Software Configuration Services
Our Web Analytics team could help you to choose the right software in case you do not have one already. And if you have an existing software, we could configure it to give you accurate and timely reports.
Web Analytics Data Auditing
Analytical data that is not correct is not of any use. With this in mind, we audit the data collected using the Web Analytics software so that there are not unwanted visits or hits, like bot visits, duplicate visits etc.
Web AnalyticDashboard Creation
Dashboards are simple, easy-to-read reports that summarize all the relevant statistics from your website. We specialize in good-looking and comprehensive dashboards, be it downloaded from the Web Analytics software or custom-made for you.
Web Analytics Traffic Reporting and Analysis
Reporting is what Web Analytics is all about. We can give you regular and ad hoc reports with all the relevant information you need. These can also be mailed to the stakeholders depending on your requirements.
Web Analytics - Website Optimization
Optimization involves implementation of the changes mentioned in the reports. These changes should then be measured to see if they are effective. We also do A/B Testing and Multivariate Testing to test different content/images or variables on your website.
Contact us for technology-driven and process oriented web analytics services.